Legendary Opera Coach
Lorenzo Malfatti (1923 – 2007)

Celebrated Baritone Prepared the Stars of La Scala, Covent Garden, and The Metropolitan Opera; Cultivated a Passion for Opera in Young Singers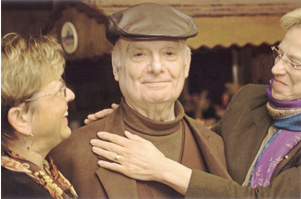 Born in 1923 in Pittsburgh, Lorenzo Malfatti was the son of immigrants who came to the United States from Lucca, Italy. He had planned to be an accountant, but that all changed when the handsome young baritone joined the army. Mr. Malfatti's music career began at the age of 19 during World War II as a G.I. in India, where he was chosen by André Kostelanetz and Lily Pons to perform with them during their famous tour of the Orient. After the war he was a merit scholar at the Juilliard School where he became a protégé of the celebrated baritones Mack Harrell and Giuseppe de Luca, and was one of the first recipients of the Fulbright Award along with Aaron Copland, David Diamond, Lucas Foss and Lee Hoiby.
While in Italy as a Fulbright Scholar, Mr. Malfatti studied at the Cherubini Conservatory in Florence, St. Cecilia Conservatory and Academy in Rome. He then enjoyed four years at the famous Accademia Chigiana in Siena where he sang leading roles in Franco Zeffirelli's first stagings. He later became permanent baritone soloist of the Italian Swiss National Radio singing everything from Monteverdi, Vivaldi, Rossini, Verdi to Schoenberg and Charles Ives. Mr. Malfatti also concertized with the RAI in Rome, where for four years he was on scholarship with the opera's leading coach, Luigi Ricci.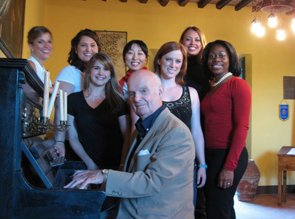 At the invitation and under the supervision of the composer, Mr. Malfatti made his professional American debut in the Tanglewood première of Aaron Copland's 'The Tender Land.' Returning to New York, Mr. Malfatti was a regular performer and occasional host of 'The Aldo Aldi Show,' a daily live television variety show. Declining an offer to be Robert Weede's cover in the Broadway musical, 'The Most Happy Fella,' Mr. Malfatti took a faculty position at Chatham College in his native Pittsburgh in 1956, where he enjoyed a long-tenured position as director of vocal activities, and where he administered the Minna Kaufman Ruud Scholarship fund, which enabled a number of talented women to study voice at the college. He helped to found Opera Theatre of Pittsburgh with Mildred Miller, and also had multiple appearances as soloist with William Steinberg and the Pittsburgh Symphony Orchestra. In 2004, he received an honorary doctorate from Chatham College.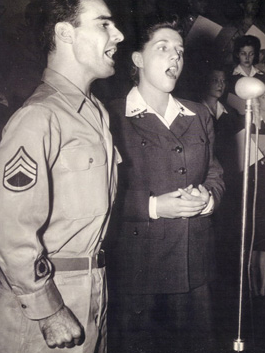 An internationally recognized voice and opera coach, Maestro Malfatti was professor emeritus at the University of Cincinnati College-Conservatory of Music (CCM). He was chief preparatory coach of the opera department for many memorable years and collaborated with the legendary leading basso of the Metropolitan Opera, Italo Tajo. Mr. Malfatti co-founded and was the artistic advisor of the Opera Theatre and Music Festival of Lucca. Starting in 1960, he brought over 1000 students to Lucca to study singing and Italian language. The love that the Lucchesi had for him was much evidenced by standing-room-only turnouts for his concerts, and the choruses of "Buon giorno, Maestro!" that came from passersby during walks to his coachings, shop and restaurant owners, and politicians alike.
Recognized worldwide as an expert in recitative, he conducted master classes in Italian diction, emphasizing "recitative style," in the USA, Canada and Europe. He was also co-founder and director of the Accademia Vocale in Lucca, Italy, where he prepared leading singers for their debut performances at the world's leading opera houses including La Scala, The Metropolitan Opera and Covent Garden.
According to Maestro Malfatti, "the most fun he ever had…"
Co-founder and director of Opera Barga in Barga, Italy
Head vocal coach of the apprentice program of the Lyric Opera of Chicago
Substituting for Eleanor Steber at her request at the Cleveland Institute of Music
Italian diction coach at the American Institute of Musical Studies in Graz, Austria
His great love and knowledge of the wonderful regional folk songs of Italy culminated in his co-founding and becoming vocal director of the internationally famous company, I Campagnoli.
Highlights of Maestro Malfatti's career include:
Dubbing the singing voices of famous movies stars for film distribution in Italy
Tutoring Sophia Loren in English while she was filming the role of Aida to the singing voice of Renata Tebaldi
Performing the title role in the first television version of 'Don Giovanni' at the Cine-Città in Rome
Attending the American premiere of 'Les Misérables' on Broadway in which three of his students were performing leading roles
Judging innumerable Metropolitan Opera auditions all over the USA
His proudest moment was being selected to represent Italy throughout Europe singing the leading role, Testo, in 'Il Combattimenti di Tancredi e Clorinda' by Monteverdi during the composer's 400th anniversary year.
Noted Students of Maestro Malfatti:
Stephen Flaherty, Tony Award-winning composer of 'Ragtime,' 'Seussical: The Musical'Â and others
Steven Mercurio, celebrated conductor and composer
David Malis, baritone of Metropolitan Opera fame
Franc D'Ambrosio, Broadway, television, film and recording artist
David Adams, celebrated pedagogue, professor of voice at UC-CCM, and artistic director of Opera Theatre and Music Festival of Lucca
Marie McLaughlin, one of the world's leading operatic sopranos
Kurt Streit, tenor, world-renowned Mozart specialist and EMI recording artist
Michael Maniaci, male soprano